"Integrating Horses Into Healing"

I am beyond thrilled to share that a new book "Integrating Horses into Healing" is now available for pre-order.

This is an amazing collection of knowledge from leaders in the field coming together to add their expertise in the practice of equine assisted services.

It was truly an honor to be a contributing author on IFS Equine-Engaged Psychotherapy (Equid-Nexus) and to represent The Natural Lifemanship Institute.

This book is for all practitioners - those who are interested and new to the field and seasoned facilitators.

Order now with discount code by clicking the button below.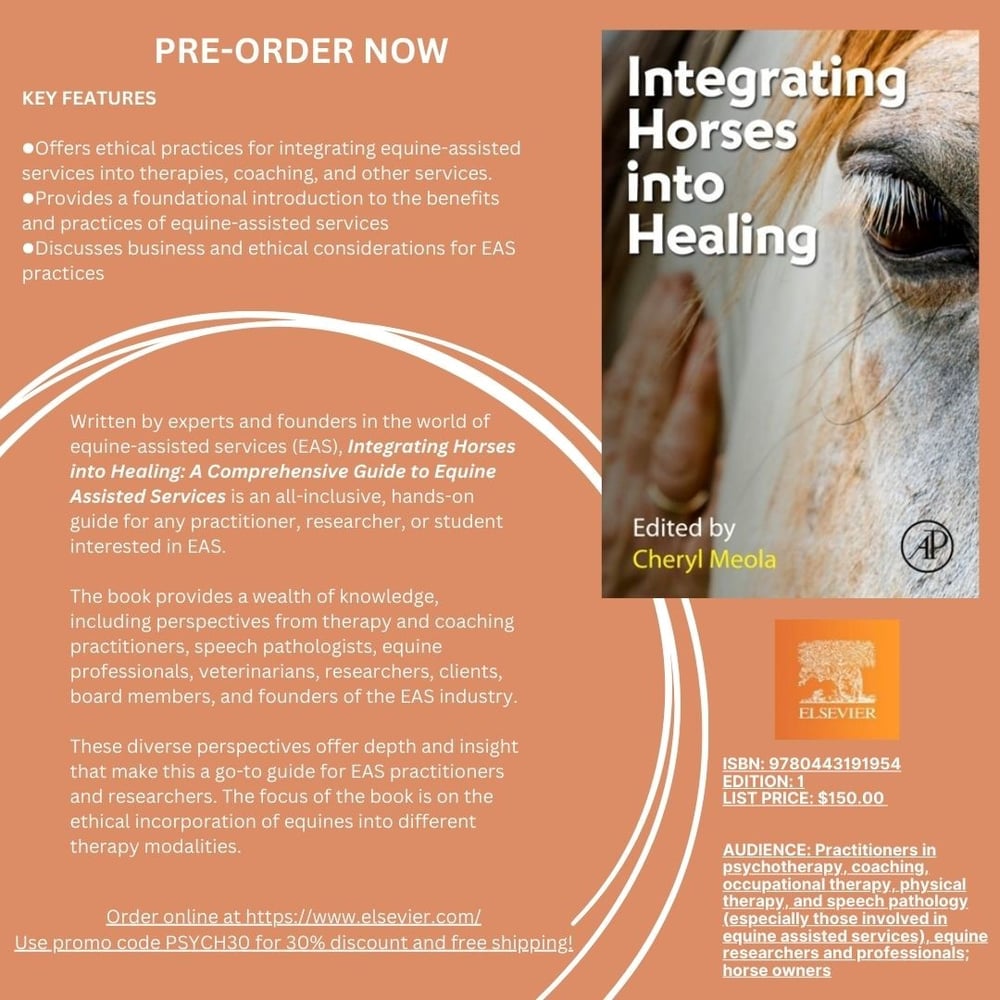 Welcome to
Equid-Nexus, LLC

Equid-Nexus™ is an Equine Engaged Parts Work Psychotherapy model and Training Program that is based upon Internal Family Systems (IFS) and IFS informed EMDR.

The model's focus is on healing relational trauma by building relational consciousness (both internally from Self-to-part and externally from Self-to-horse) to help people heal their relational trauma burdens in real time, within a real relationship with the horse.

A person heals through identifying what parts of themselves are holding emotional pain from past attachment ruptures. When these parts are identified the person can then work to release the pain by increasing their internal relationship with their Core Self, and by changing their interpersonal patterns to have a corrective experience by building a connected relationship with their equine partner.

Jenn Pagone offers on-site trainings at Whispering White Horse Stables, virtual workshops, and clinical consultation.

Jenn Pagone, LCPC (IL), LPC (WI) is the creator of Equid-Nexus™, which is based upon the Internal Family Systems Model, attachment theory, and the principles of The Natural Lifemanship Institute's trauma-focused equine assisted services.

Jenn is advanced trained and certified in both IFS (Level 3) and EMDR, and an IFS-informed EMDR Master Certified Practitioner with the Syzygy Institute. She has specialized in treating women with complex trauma for over 15 years. Her other specialties include dissociation, conversion and somatization disorders, attachment challenges, grief and loss, eating disorders, women struggling with cancer, and infertility.

She has a full-time private practice, Pagone Psychological Services, PLLC, and is the Founder of Whispering White Horse Stables, a therapeutic horse ranch located in Marengo, IL.

Prior to opening her private practice in 2012, she worked as a rape crisis counselor and medical advocate, a clinical therapist on inpatient and outpatient eating disorders units, and managed a group home for women with eating disorders and trauma.

Believing that "the personal is the professional", Jenn loves to foster other professionals' growth and learning, and walk beside them on their journeys towards healing and secure attachment with themselves and others. She offers individual and group clinical consulting for professionals.

In addition to providing clinical psychotherapy and training workshops, she has a background in teaching clinical psychology as an adjunct professor, is a conference presenter, Natural Lifemanship Trainer, and a staff Guide for the Syzygy Institute.

---
Meet The Herd

There are 9 therapy horses at Whispering White Horse Stables. Each horse is uniquely gifted to add their own value to the program.

It is important that these horses are known for who they are, instead of what they may represent by projection or transference.

Cordelia is a 7 year old Fell Pony. Her favorite song is Single Ladies.

Rocky is a Spanish Mustang. Part of his story is told in the "Integrating Horses into Healing" book, Chapter 8.

Abbey is a 26 year old Tennessee Walker. She was a trail horse, now enjoys her retirement as a partner of the therapy team.

Annie is a 26 year old mini Appaloosa. She is mom to Warrior and Tina.

This is Warrior (aka: Dog). He is 9 years old. He moonlights as a carriage horse.

This is Tina Turner. She is 14 and loves center stage; especially when it involves ground based Equine Engaged EMDR.

Louie was born 2 days after Warrior and has the same dad (along with Tina). These brothers live their best lives together.

Pearl and Junior are the newest members of the herd. Pearl is 6 years old and her colt is 9 months.

This is Casper, the Whispering White Horse. The horse that started it all and the connection of a lifetime. His legacy lives on through Equid-Nexus.